What's Elf Storage?
The perfect solution to the Christmas present hiding problem.
Whether you're a last minute shopper or a longer term planner, when it comes to Christmas presents they need to stay hidden until they're ready to be handed over. For many people finding storage solutions that keep them safe, undamaged and hidden isn't always easy. If you have children, it can feel almost impossible. We've pieced together 6 reasons we feel Elf Storage is the solution you need to make your Christmas a little less stressful.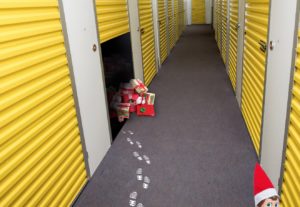 6 Reasons to use Store & Go Elf Storage
1. Preserve the magic of Christmas!
Did you know that you can hire a 16 square foot storage unit, which will hold approximately 10 boxes for as little as £44.00+VAT ?
You could also get a larger unit and share with friends or family.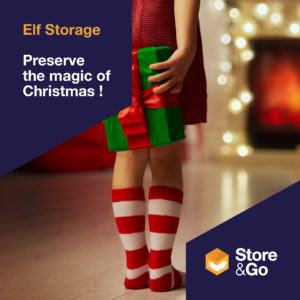 2. Keep them safe.
Don't risk leaving your gifts outside, especially if they're valuable or you don't have enough time to replace them if something happens to them!  Your gifts will be safe with us! Our facilities are covered by 24 hour CCTV, modern alarm systems and our receptions are staffed during opening hours.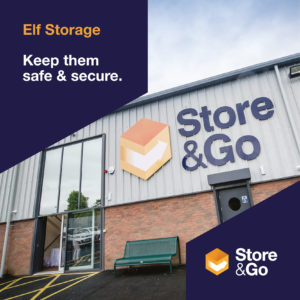 3. Place to wrap and assemble.
It's incredibly difficult to wrap presents away from prying eyes of children.  This isn't such a problem if you have a spare room, garage or shed handy so that you can lock yourself away in but many don't.  Climbing in and out of the attic space night after night to store and wrap presents is a real pain and runs the risk of you getting rumbled by your little ones. Having the extra space with a Elf Storage unit will also give you an opportunity to assemble any of the smaller gifts that need assembling.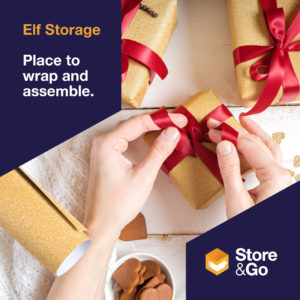 4. It's simple to book.
A. Choose a size that best suits you
Our unit size guide can help you to determine what storage is best for you.

B. Get your instant quote online
Fill in a few details online to get an instant online quote.
C. Identification and Sign up
Proof of ID prior to sign up and viewing of Licence Agreement
D. Bring your goods to our location
You simply bring the goods or possessions you wish to store, lock them in the room and access them during the opening hours.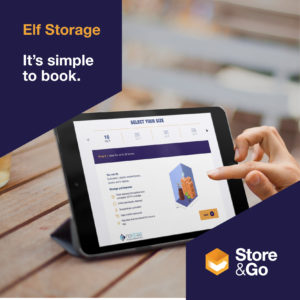 5. Shared costings.
After securing a Self storage unit you can share access with friends or family, allowing you to spread the costings too. Perhaps a family self storage unit is what every needs to hide away them treasured Christmas gifts, knowing they are safe and secrue at Store & Go.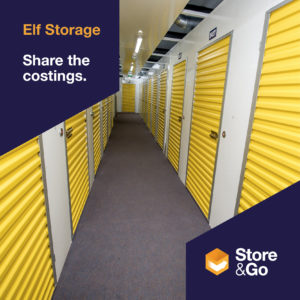 6. Free up space for family
If you have friends and family coming to stay during Christmas but you need to empty your spare room to make room for them, a slightly larger unit would allow you to hide your Christmas presents and free up that valuable space at home.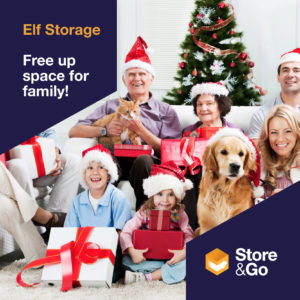 We really do think that with Store & Go Elf Storage we can help take some of the stress out of your Christmas and give you a bit of breathing space to really enjoy it!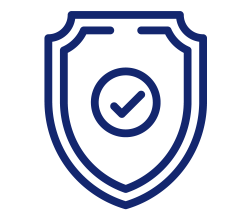 Safe & Secure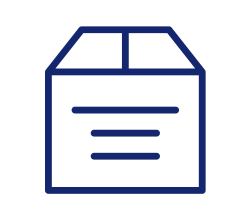 7 Day Access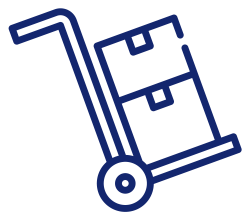 Perfect Location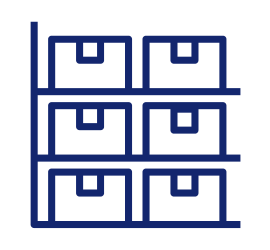 Flexible
Unit Sizes
Our state of the art indoor self-storage units vary in size.